LLC "Nikobudproekt" – LLC "Nikobudproekt" is an engineering and construction company that provides a full range of construction works, starting from the design phase, obtaining a building permit and till the very commissioning. Stable structure and years of experience of our company allow you to organize production processes with significant reduction of production terms and improve the operational reliability of construction objects. Belongs to a group of IDHolding companies.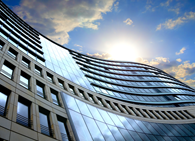 Engineering and construction company "Nikobudproekt" was founded in mid-2006. During the existence of our company, our experts have built and commissioned a lot of different objects. To date, the main focus of our company is an industrial building, in the framework of which a systematic approach is implemented, taking into account the advanced construction technologies, the required level of reliability and safety.
Our company operates modern production facilities and our personnel policy is aimed at creating a team of professionals who are able implement the most complex objects - from renovation to new construction.
Acting as a general contractor in the construction and also as a general project organization, "Nikobudproekt" company is ready to provide services for the construction, design and renovation of various facilities:
industrial and warehouse buildings and structures
civil, administrative and office buildings
residential buildings
And also to provide services for the implementation of certain types of works:
solid works
finishing works
roofing
dismantling
designing of metal and wooden structures
works of engineering and geological, geodetic surveys
designing of monolithic structures and facilities
facade works
laying of industrial concrete floors
construction and installation of metal-plastic and aluminum structures
designing and installation of electrical networks and electrics
designing and installation of water supply and sanitation
construction of reinforced masonry structures
fabrication and installation of metal structures
installation of the heating and ventilation systems